Description
10 colors are available :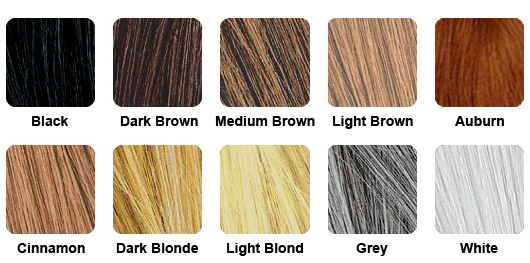 Eliminate the appearance of thinning hair and balding in less than 30 seconds!!
Nanofibers are a unique formulation of pure keratin that have been precision cut by laser to microscopic dimensions. After cutting, the fibers are dyed and are coated to enhance the retention of electrostatic charge. The dried fibers are then hygienically packed into containers, which are constructed from a sophisticated polymer that stimulates static charging of the fibers whenever the container is moved.
Unlike imitations, only the patent pending Nanogen dispensing unit uses advanced polymers and a metalic static strip to add static charge during use. Look for the special "Nanogen" markings. Nanogen is really simple to apply and can take as little as 30 seconds or less once you get used to it.
Directions for use
1 – Sprinkle on the
Nanofibres
2 – Blend in gently with
the fingers
3 – Spray on Locking Mist

1.Wash and Dry hair. After styling, sprinkle Nanogen Nanofibers over the thinning areas until the scalp is no longer visible.
2. Using your hand, pat and shape the area so that the Nanofibers can merge seamlessly with your existing hair. Don't use a comb or brush
3. Apply Nanogen Locking Mist to bind the hair-fiber matrix.

How do NanoFibers work?


Nanogen is applied quickly and without mess by simply shaking the container over the thinning area, releasing thousands of the microscopic colour-matched hair fibres, which intertwine with, and branch off of the real hairs.


Charged with static electricity, they bond in fir tree patterns along the hair fibre so securely that they will stay in place all day, in strong winds and rain, and will not stain or smear, but can be easily washed out with a shampoo wash.
The fir tree pattern creates a realistic looking AND feeling density. Other sprays and creams simply color the scalp to make the hair loss less visible. Nanogen is completely different.
As the Nanofibres actually cling to individual hairs, the effect feels natural and allows styling like you never again thought possible. Every time you look in the mirror you will be truly amazed.

Ingredients :
Kératine (98%), Fatty Alcohol Sulphate, peut contenir Cl 15985, Cl 16034, Cl 19140, Cl 45380, Cl 17200, Cl 42090, Cl 61570, Cl 42053, Cl 61565, Cl 15510. Composition Locking Mist: Alcohol Denat. (Ethanol B100), Ethyl Ester of PVM/MA Copolymer, PEG/PPG-18/18 Dimethicone, Phenyl Trimethicone, Parfum (Fragrance), Phytantriol, Ethylhexyldimethyl PABA, Panthenol, Aqua (Water), Limonene, Coumarin, Benzyl Benzoate, Citral, Linalool, Citronellol, Geraniol, Butylphenyl Methylpropional.